Are you thinking of adding some character to your home? Why not try Wilsons Yard for your reclaimed internal and external doors? We have a stunning range of Victorian, Georgian, Art Deco and country farmhouse style doors; to mention but a few.
Whether your property in Dublin is a period home, contemporary setting or a country cottage we are sure to have a door that suits your needs. Wilsons Yard are proud to be able to offer reclaimed and bespoke doors in Dublin.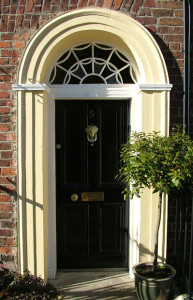 From Howth to Bray, and all areas in-between, we supply a large amount of reclaimed doors, both internal and external, to our customers based in these areas.
If you are trying to sympathetically restore a property in the Dublin area then we are on hand to assist you and help bring your project to fruition.
A great deal of the surviving properties in Dublin have been built in the traditional, Georgian style. Whether you are looking to match up a few existing doors, or replace an entire batch, here at Wilsons Yard we can help you through the entire process. Our original, salvaged doors have come out of properties all over Ireland and Dublin and will be a sympathetic match to any exiting doors from that era.

Alternatively, we have the ability to create doors which are exact reproductions of original doors, ensuring that if you require a large amount of matching doors then we can help.
Using our extensive network of pallet distributors we are able to deliver to all areas in Ireland including Dublin, Wicklow, Bray and beyond!
From external Georgian front doors, parlour/vestibule entrance doors, traditional country cottage to 1930's Art Deco doors we keep a large amount on stock; guaranteeing that you have a wealth of choice.
We also have a number of salvaged doors of architectural significance. If you are after a door which is a little bit out of the norm then we should be the first place you look! We currently have doors salvaged from the American embassy in London, Irish Celtic doors reclaimed from a chapel and vestibule doors recovered from a parochial house, to name but a few!