Restoring Vintage 1950's Theatre Lights
We recently bought and subsequently commissioned the restoration of a number of original old vintage theatre lights.
These are truly beautiful lights that have been painstakingly and lovingly restored. We thought that you may find it interesting to understand just how much work Wilsons put into our products to that you can fully enjoy them in your own property.

The lights are Strand Electric vintage 1950's theatre lights. These lights would have been widely used in theatres across Britain and Ireland, including The West End in London and all the big threatres in Dublin and Belfast.
The spotlights are wonderfully engineered, have been tested and re-wired to accommodate a normal low-energy bulb, allow full 360° rotation and come complete with a bright mirror finish. They have been expertly restored to their original glory, and we want to share that process with you.
The Restoration Process
1. Stripping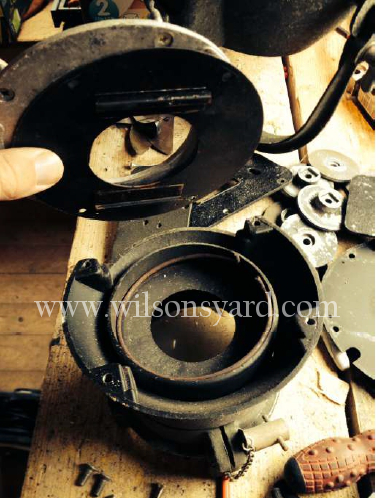 The lights are painstakingly stripped down to their base components. Each section is delicately removed, including the lenses and internal reflectors. Every part of the spotlight is used again; apart from the cable and original lamp holder, which are replaced due to modern wiring regulations.
2. Cleaning the body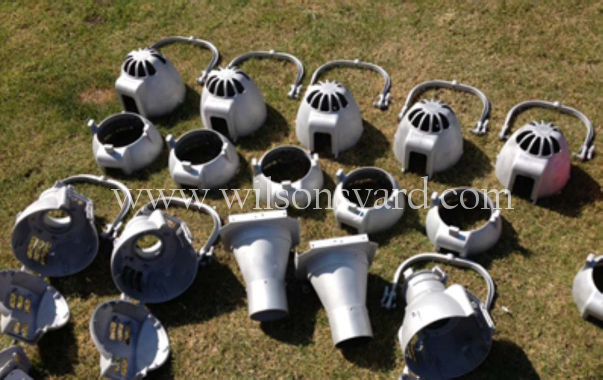 The body of each spotlight is blast-cleaned using a high pressure nozzle system combined with glass beads and baking soda. This non-destructive process will bring up the natural look of the aluminum body underneath.
3. Cleaning the Internals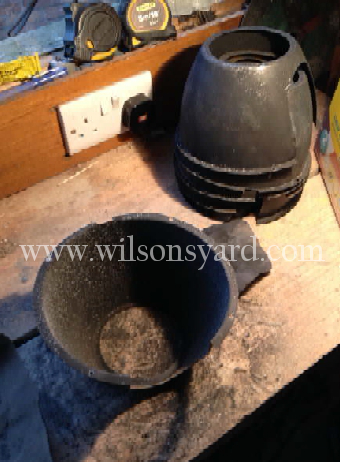 After sitting in a disused environment for a long period of time, the interior of the lights become thick with dust. An alcohol solution is applied and the surfaces are returned to their original state. Every other internal component is sanded, cleaned and re-coated.
4. Mirror Polishing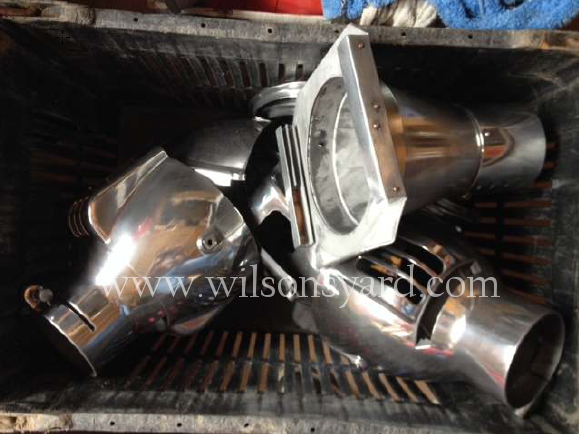 Once the body of each spotlight has been blast-cleaned it is then rubbed down with silicon carbide paper, this removes any rough finishes on the lamp. Each light is then polished and buffed until a mirror finish is achieved. Small signs of wear are visible on each light adding to the character and authenticity.
5. Rebuilding
Once every component has been cleaned/tested then the lamp can be re-assembled. There are over 50 different components that go into creating these lights!
6. Re-wiring
A new plug is attached to the lamp, along with a 3m core flex and  an inline switch. A new ceramic lamp holder is installed and and a 1600lm energy saving bulb is inserted. The light is then PAT tested to ensure that it meets modern electrical safety standards.
7. Mounting

The finished lights are then mounted onto a wooden/brass tripod, which are then ready to be displayed in our showroom. 
Wilsons Conservation Building Products (www.wilsonsyard.com) yard are a family run business involved in reclamation and salvage for 4 decades. If you would like to look at other vintage lights, industrial style lights or antique chandelier then check out the lighting section of our website