Choosing a gate constructed from Iroko hardwood is a sound decision.
Iroko is world renowned as a durable hardwood that will give many years service in all weather conditions without risk of rot whilst maintaining a beauty deriving from its wonderful grain.
Iroko privacy gates are made using the finest materials & craftsmanship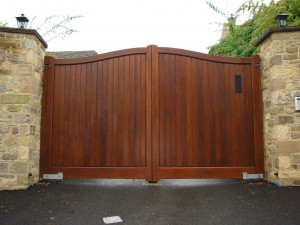 Every corner and run of our gates has been hand bevelled in order to ensure rainwater runs off, maximising the lifespan of the gate.
The timber panel boards are constructed allowing for swelling and slight movement caused by the changing temperatures in the seasons.
Iroko privacy gates are the high end of timber gates they will still be standing tall and proud after many years of hard weathering.
We are currently offering our display gates at a discounted price, so now could be the time to add a bit of class to your property/project.
Click the link below for details
Thank you
Gerard