Vintage Leather Furniture
Vintage leather furniture
Just visited a customer who recently bought some vintage leather furniture from our shop. I think it looks great!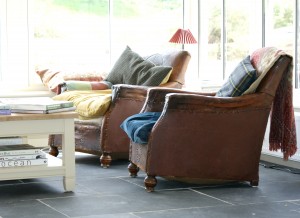 I certainly could imagine sitting in them, chilling out, reading a book with a glass of wine in my other hand.
Thanks Claire!!
Nigel
Wilsons Conservation building products (Wilsonsyard) supply antique furniture, kitchens, reclaimed wooden flooring, stone flooring, vintage lighting and garden feature plus lots more. If you get a chance have a look at our web site for our full range.