Very Rare Ornate Radiators
Very Rare Ornate Radiators.
French style embossed cast iron radiators are getting increasingly hard to source. This is mainly because they where never made in big volumes and are very sought after because of there intricate designs. Designs also vary quite a bit from radiator to radiator.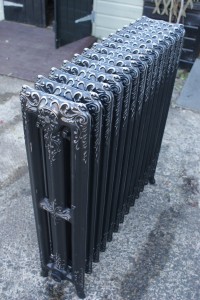 Finding an embossed radiator made by an American company is even harder again to find, many people have never seen one. The one below is only the 2nd one I have seen in my 13 years working with them in Wilsons.
A guy approached me a while back about buying a mixed batch of reclaimed cast iron radiators, I agreed to go and look at them. The man was an "old school plumber" and had always liked the original radiators because of their look, heat output and ability to retain heat. He had gathered up approx 60 old radiators over the past years when changing peoples heating systems. In the batch of radiators he had were these 3 fantastic looking embossed radiators, 1 of which was the American type (which turned out to be 'os radiator company west Newton' Pennsylvania) they specialised in cast iron radiators and boilers.
I was immediately interested in these embossed radiators as I just knew they would add a real touch to our showroom when restored. After a long discussion about prices we finally got to an agreement for buying all his radiators. (I am kicking myself I didn't take any images of the embossed radiators before restoration but here are the images with our hand burnished finish.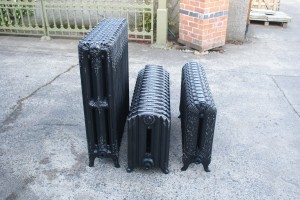 We stock many old reclaimed radiators fully refurbished ready to install into any new or old property. Should you have any interest in these type of radiators call in to see me and we can have a coffee and a chat about your requirements.
Alan