Traditional Kitchen Taps
Traditional Kitchen Sink Taps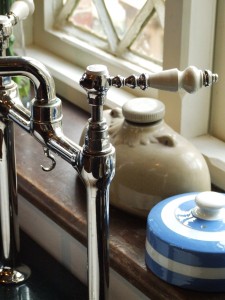 When I am sitting down to design a kitchen it's very important to get all the details just right.
For example, taps can make a big impact and frankly there are some really awful taps out there.
Because of the nature of our business, we find really special vintage taps plus ensure that we source quality, special new taps.
So if you are redesigning you're kitchen or revamping an existing kitchen it just might be worth popping in and having a look at what we have. If we don't have it in stock there is a good chance that we may well know someone who has and be able to source for you.
Hope you enjoy
Nigel